Robb Report at Concert by Unique Peruvian Tenor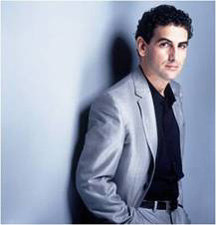 Robb Report Russia acted as informational partner to a concert by Juan Diego Florez held on June 15 at the Moscow International Performing Arts Center.
Modern tenors are most often compared to one of the outstanding trio of concert opera singers - Pavarotti, Domingo and Carreras. But even those unrivaled masters avoided the extremely difficult arias of Rossini, which, before Florez, were practically impossible to perform. Only one person - a descendent of the great Incas and the conquistadors - has managed to glide through them, as well as the coloratura of the arias of Bellini and Donizetti.
Juan Diego Florez is a true "operatic wonder." Even people who know relatively little about music are able to understand that what Florez does is phenomenal. This says nothing of the media, which has labeled the singer the "golden boy" and the "sun child." Florez' technique is honed down to the tiniest detail, but technique is just the wrapping. The Italians call his voice the "tenore di grazia" - the elegant tenor. Sophistication, delicate beauty, harmony commensurate with power and nerve, tenderness and airiness - all make Florez a truly great singer.
In return for its support of the Juan Diego Florez concert, the Robb Report Russia logo was placed on all advertising and informational materials, including outdoor ads. The magazine's advertising material was also placed in the event venue.