Robb Report Russia: the Fruits of Fantasy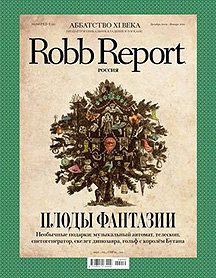 Every year, the editors of Robb Report Russia search "the best of the best" for unusual New Year's presents you can give yourself or those closest to you. In selecting gifts for New Year's 2010, the magazine's editors and authors sought unusual objects and services and considered gifts themed to the "Old New Year" – that is, gifts for those who have reached a venerable age.
The list of gifts includes a journey to the North Pole, cooking classes taught by a princess, golfing with the King of Bhutan and a flying car. The list of vintage presents includes an 11th century abbey, a 100-year-old wooden yacht and the most ancient of antiques – a dinosaur skeleton.
Robb Report Russia wishes you a great New Year's holiday replete with new impressions and old friends!