Cosmopolitan Shopping at Sunday Up Market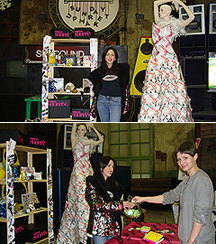 Cosmopolitan Shopping magazine took part in the Sunday Up Market, a pre-New Year's fair of young designers held in Moscow from December 21 to 27.
The first four days of the fair were dedicated to the most bona fide Christmas bazaar ever: a 7-meter high felt Christmas tree, mulled wine, cinnamon and mandarins, designer holiday trees, toys and ornaments, every imaginable designer accessory and other treats of the holiday season. Visitors were able to select gifts for friends and loved ones to suit any taste or budget.
A market for young designers kicked off on December 25. It featured fresh collections from new brands, New Year's Eve dresses, felt boots with embroidery and printed designs, parkas and jumpers, scarves and winter hats, coats with intricate designs and soft long underwear for winter. Throughout the week, visitors could take a break from shopping to watch films from the Night Showing movie club, view a unique collection of fashion video clips complete with stylists' commentary, play board games and attend lectures by instructors from the British Higher School of Art & Design.
Cosmopolitan Shopping also did its bit for this wonderful event. The magazine presented its unusual "Gift Exchange" stand. Visitors could bring a present and receive a gift for themselves in exchange. And on weekends, fair guests could take part in master classes by Nadezhda Krugova, fashion director for Cosmopolitan Shopping. The working title for the master class was "Giving New Life to Old Things." Krugova taught listeners how to make ultra-stylish accessories from tired old items such as an used pair of gloves.