New Project by Robb Report Russia Magazine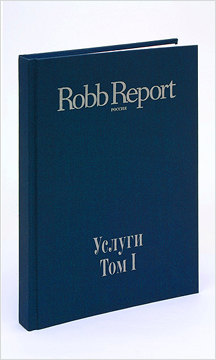 Year after year, the editors of Robb Report Russia editors tirelessly study the global and domestic luxury class services markets and report their discoveries in the pages of the magazine. But for obvious reasons, in each issue the magazine can merely touch on the long and varied list of expensive services available.
The first volume of the "Robb Report. Services" project is a full-fledged book dedicated entirely to the theme of luxury class services. The book includes the most interesting and sought-after high-end services in Russia and the world: event planning, animal services, summer schools, yacht management, repair and cleaning of ornaments and decorations, custom tailoring, custom sculptures, mansion and dacha rentals, and much more. Readers might already be familiar with some services, but find others that are one-of-a-kind. The book does not focus on a particular type of service, but includes a wide variety of companies operating on the Russian and global markets.
Robb Report Russia is ready to share a great deal more about luxury class services, and that is why "Robb Report. Services" is only the first volume in this project.