Robb Report Russia Sets the Standard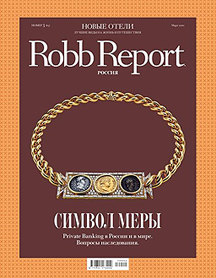 The March issue of Robb Report Russia magazine explains the main points of private banking in Russia and the world, offers interesting options for new travel destinations and helps readers choose gifts for their better halves.
On the magazine's pages, practicing specialists of one of the oldest professions – private banking – tell of its advantages and differences in various countries. Special attention is given to inherited capital, one banking service in high demand by wealthy Russians.
The magazine covers the travel theme in the form of a hotel review: Robb Report checks out three brand new and two refurbished hotels at different far-flung locations. Also in this issue – a detailed travel diary from Robb reports authors and editors on a family safari in Tanzania, riding on the Orient Express and attending a new regatta that is already on the list of the world's most prestigious.
And, of course, the March issue could not overlook a survey of gifts for members of the fairer sex. The high jewelry review of the latest creations from leading jewelry houses of the world will undoubtedly amaze readers with its rich and captivating beauty.