New Book from Domashny Ochag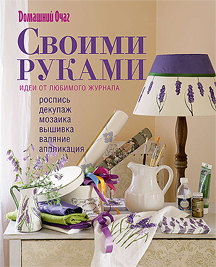 A new book from Domashny Ochag magazine has been released in cooperation with Exmo publishers: With My Own Hands: Ideas from Your Favorite Magazine. The beautiful gift edition book draws on handicrafts articles and workshops from the many years of the magazine's existence.
It is always pleasant to be surrounded by things you have made with your own hands, things that are imbued with love for your home and those close to you. Pillows and ottomans, upholstered furniture, chairs, bookcases, tables, shelves and even table glass and porcelain – all of these things can be decorated using the special techniques described in this book.
It would be safe to call this Domashny Ochag book a veritable school of handicrafts. Here readers will find the ever-popular decoupage, painting on fabric and glass, painted furniture, as well as embroidery, appliqué, mosaics, and original techniques for working with felt and batting. Thanks to magazine stylist Marina Krugova, everything found in this book is unique. Krugova always performs her task with great taste, and in such a way as to ensure that every reader can easily master specific techniques and find the necessary materials.
Columns on handicrafts – lovingly put together by editor Anna Zaleska – have always been among the most popular in the magazine. This is not surprising, considering that handmade items always reflect the spirit, thoughts and ideas of their creator, and are therefore always highly valued.
The editors hope this publication will become a reference book for all of those who appreciate the comforts of home and who love to create beautiful things with their own hands. It will be helpful for beginners, as well as for those who want to learn new decorative techniques. Enjoy pleasant creative experiences with the book With My Own Hands: Ideas from Your Favorite Magazine.