Domashny Ochag: All the Best of 15 Years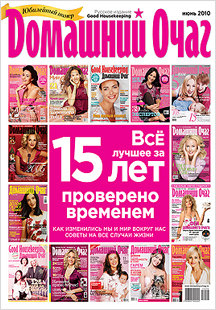 The June anniversary issue of Domashny Ochag magazine is on sale. The issue, made with the help of readers, brings together all the best material of the last 15 years. Editors explain how the magazine and the world around us have changed over the years.
In this issue:
Stars through the eyes of Domashny Ochag editors: how they lived and how they've changed.
A new life for readers thanks to their favorite magazine. Interviews with the best handicrafts experts in Moscow. Making handicrafts is fashionable!
The best recipes from loyal readers. Fulfilling readers' desire to appear on the cover of Domashny Ochag in all their glory. How the family has changed: from the past to the future. How to protect children from their parents.
Choosing the right grill, what to cook on it and how to make it tasty. How tastes have changed in the last 15 years.
Irina Khakamada: "Do you really want to help?"
Psychologist Galina Tymoshenko: "What has love got to do with it?"
Heroes of the month – Alyona Khmelnitskaya and Tigran Keosayan.
A special gift for Domashny Ochag readers – coupons good for a 40 percent discount on any master class offered by the Domashny Ochag Institute.