Robb Report Russia: the Feel of Duomo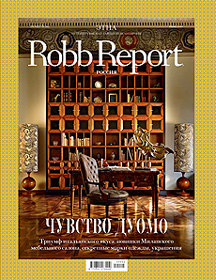 In the "Home" section, readers will learn of the main trends of Milan's furniture fair, discover that prices are rising on Tribal Art, follow decorators through the archives of old textile factories on a search for new solutions, and learn how designers are becoming artisans to create the antiques of the future.
The section on Italy opens with a detailed story by Robb Report Russia author Olga Pavlova on her travels to Mt.Etna. The ascent to the volcano crater, acerbic wine, pistachio groves and the charm of medieval cities left her with truly unforgettable impressions. Fans of Italy will also be interested to learn which clothing and accessories brands are worth considering in order to buck the commercial trends in fashion, who is responsible for maintaining the traditions of Italian jewelry, whether it is possible to take up residence inside the walls of a Franciscan monastery, and which culinary delights the Jewish ghetto gave to Italian cuisine.
The issue did not overlook the Italian auto industry either. The Maserati company has chosen a new development strategy, once again proving why it is considered to be one of the world's best manufacturers of exclusive automobiles.