Ksenia Sobchak at Domashny Ochag Institute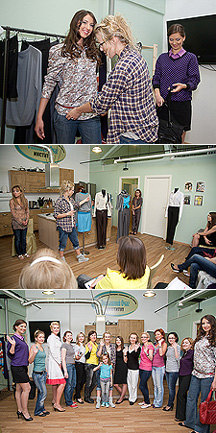 In honor of its 15th anniversary, Domashny Ochag presented regular participants of the Domashny Ochag Institute with a master class by Ksenia Sobchak.
The master class, titled "Men's Things in Women's Wardrobes," was held on June 5. As a specialist on Savage style, Ksenia Sobchak shared her secrets with participants.
Sobchak not only spoke about the latest fashion trends, but also showed how to look stylish and fashionable without investing a lot of money, time or effort. Using jumpers and shirts from the Savage men's collection, Sobchak created interesting and truly feminine looks. Young female models demonstrated how striking an image could be using well-chosen articles of men's clothing, and how they can naturally become a part of modern women's everyday lives.
The first outfit is ideal for going on walks with friends and dates with a loved one. To create it, Sobchak used a men's shirt with a typical seasonal print. She then complemented it with blue jeans and a hip belt and gave it a bright accent in the form of a brick red-colored handbag.
The second look is perfect for the office. A black skirt combined with a men's jumper with a black and purple plaid pattern, along with a large handbag big enough to easily carry a laptop, made a convenient and stylish option for business meetings.
In the final part of the seminar, participants put together outfits themselves and chatted with Sobchak in an informal atmosphere. Most preferred to discuss fashion and style with her.