Robb Report Russia: The Best of the Best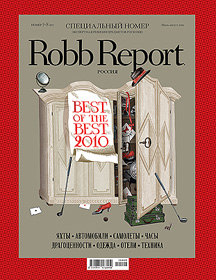 The new issue of Robb Report Russia magazine is a special annual Best of the Best edition. According to tradition, the pages of this issue highlight expensive, rare and often offbeat things.
The magazine gives readers the right to choose between the best of the best in the 2010 luxury market, as deemed by its own experts whom it considers to be the only true judges. Readers will find airplanes nicknamed the "heavenly Rolls Royce" and the "flying Bentley." New sailboats and motor yachts. Cars for all occasions: supercars, sedans, SUVs and convertibles. The best motorcycles from Arlen Ness and Ascanio Rodorigo. Premieres of complex, collectible, chronograph and innovative watches. Decorations: rare and unique, with unusual designs from the world's most famous jewelry houses. New forms and technologies from the collections of the best fashion and footwear brands of Italy and England. Electronics. And of course, hotels for all tastes: resorts, spas and urban hotels.