The New Cosmoshopping.ru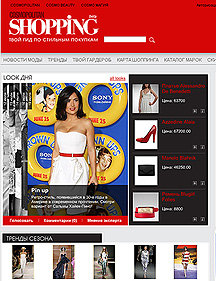 The new version of the Cosmoshopping.ru site was launched on July 12 as a social network for shopping lovers.
The "Your Wardrobe" section is also now part of the site. Registered users can mix and match stylish outfits based on items available in the catalogue, share the results with friends, comment on their favorite combinations and critique those they find less appealing. Users will also be able to buy items in Moscow-based Internet stores.
On the site's forum, shopping lovers can share their newest acquisitions, discuss outfits and find friends. They can also find the latest sales of the season in the "Discounts" section. Navigating fashionable trends has become easier with clothing now grouped by season.
What's more, the site will soon launch new sections and services – in particular, "Experts," where visitors to the site can pose questions to professionals of the fashion world.
Welcome to the new Cosmoshopping.ru site!