Cosmopolitan Shopping Makes Informed Choice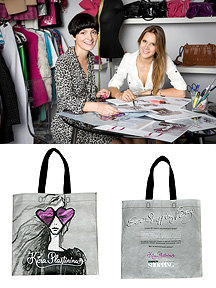 Cosmopolitan Shopping along with designer Kira Plastinina created the reusable Eco-Shopping Bag.
It is a crime to use plastic shopping bags. And those are not only strong words about the need to protect the environment, but in at least a few countries, the use of plastic shopping bags is actually a crime punishable by law. We use plastic bags for an average of 20 minutes, but they require from 100 years to 500 years to decompose. Those numbers don't only make an impression on us – they force us to act.
The age in which we live dictates that we become aware of our consumption habits. It is time to replace plastic packaging with paper, and plastic shopping bags with reusable and fashionable bags. A good example – the Eco-Shopping bag created by Kira Plastinina and Cosmopolitan Shopping. The bags are made from Vlieseline, making them very light and sturdy. And they cost just 45 rubles each.
Environmentally-conscious and fashionable – that is more than just a seasonal trend.