Best Cake and Pastry Recipes from Domashny Ochag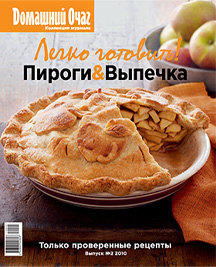 Domashny Ochag magazine has released "Pastries and Baked Goods," the second volume of its Cooking is Easy! Cookbook series.
Cakes with salmon, potatoes and dill, tartlets with bleu cheese and thyme, country-style pies with apple and blackberries, a Taten plum tart and fruit tartlets with white chocolate… all of this and more can be found in the new volume of the cookbook series.
Domashny Ochag magazine launched its new Cooking is Easy! culinary series of books in late September 2010. Each of the thematic volumes is an outstanding cooking guide. A total of 11 volumes will be released:
Volume 1: Lunch & Dinner;
Volume 2: Pastries & Baked Goods;
Volume 3: Setting the Table & Entertaining;
Volume 4: Meat & Chicken;
Volume 5: Cakes & Cookies;
Volume 6: Food for Your Health and for the Fast;
Volume 7: Shish kabob & Grill;
Volume 8: Salads & Vegetables;
Volume 9: Pickling & Preserves;
Volume 10: Soups & Sauces;
Volume 11: Rice & Pasta.
Domashny Ochag editors have created an original and useful format, selected simple and delicious dishes and added high-quality illustrations. In addition to recipes, readers will find lots of useful information and step-by-step descriptions of the cooking process. The recipes are accompanied by practical advice, explanations and clarifications: the best place to buy a particular product, the best substitutions for unusual ingredients, the best way to serve each dish and much more.
The Easy to Cook! books are sold in the same locations as Domashny Ochag magazine – that is, at any printed media sales point.