Cosmopolitan Shopping Discount Night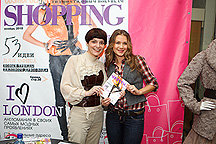 Cosmopolitan Shopping Discount Night was held in the Yevropeisky (European) shopping center on the night of October 29. One of the most widely anticipated events of the year reached an unprecedented scale: for the first time in the history of the event, more than 120,000 people visited the shopping center. Throughout the night, Yevropeisky shoppers took advantage of discounts of at least 30 percent offered by more than 300 stores and enjoyed an exciting entertainment program.
An interesting showing of such designer labels as Marc&Andre by Alena Akhmadulina, JNBY, Kira Plastinina and Armida was a staged on podium specially constructed for Cosmopolitan Shopping Discount Night on the first floor of the Yevropeisky shopping center. MTV VJs Nick Oldschool and Yulian Kapitsin acted as Discount Night hosts. Musical surprises also awaited the nighttime bargain hunters. Legendary British dance group Touch and Go performed their hits, with Cornelia Mango, Paulina Gagarina, MTV VJs, Russian beatbox champion Ivan Blackmann, Alexei Chumakov and the Marsel group also taking part in the concert. Viewers could watch the onstage happenings from all four floors of the shopping center.
Per tradition at Cosmopolitan Shopping Discount Night, celebrities acted as style consultants and helped all comers to create their own inimitable look. This year, the star consultants included Denis Kosyakov, Anfisa Chekhova, Dmitry Bikbayev, Ruslan Masyukov and Byanca, Cornelia Mango, the Infinity group, Fabrika group member Alexandra Savelyova, Yulia Kovalchuk, Anton Sevidov (Tesla Boy), Music-TV VJ Timur Solovyov, Asia, Oxana Ustinova and Rita Chelmakova, MTV Trendy program VJ Snezhina Kulova, Margarita Danielova, Anita Bkhomik, Alexei Kabanov, Darya Konovalova, Ivan Blackman, Fabrika group member Irina Toneva and Katya Li.
A pleasant surprise awaited all marathon shoppers: a raffle for tickets to the movie "Eat, Pray, Love" as well as gifts from participating stores and designers. The night's most active shopaholic won the main prize – a stylish Suzuki Splash urban automobile.
Cosmopolitan Shopping magazine Editor-in-Chief Anastasia Pyatina told the assembled guests: "Thank you very much to everyone who has shared this exciting night with us. The Yevropeisky shopping center has never witnessed this number of shopaholics before – and this is the third time we have held Discount Night. "For me, it is clear that people come not only for the discounts, but above all, to socialize. They come in groups of friends. We have created a new fashion, a new type of nightlife – this time visitors were treated to a major program of entertainment – and a new form of shopping that is turning into a real celebration. Here and there attempts have been made to emulate this formula: as everybody knows, any successful initiative is copied. But I am positive that nobody will beat the record we have set here. Until we meet again at Cosmopolitan Shopping Discount Night!"
Video clips of the event can be seen on the Music-TV programs PRO-Novosti and Stylistika, on the MTV program Trendy, on the TNT program Cosmopolitan – Video Version, on the NTV program Utro, on the 2x2 comedy program Reutov TV and on the web site www.cosmoshopping.ru.