Domashny Ochag Festival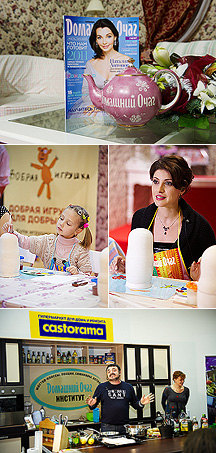 The Fourth Annual Domashny Ochag Family Festival was held with great success from December 10 to 12 at the Central House of Artists on Krymsky Val. More than 100 partner companies and approximately 21,000 guests participated in the celebration.
The Domashny Ochag festival is held every year especially for those women who know what they want. Sometimes a woman's happiness can be found in something as simple as a beautiful hairdo, a man's admiring eyes, a child's laugh and sometimes, even in the glare of a shiny new cooking pan. But the greatest happiness for us women is to have a family – our own hearth and home.
For three days, women had the great and long-awaited opportunity to meet with Domashny Ochag. They shared their pet peeves, gossip and ideas, met with interesting people, made handicrafts, cooked, made purchases, learned new things, made discoveries and most importantly – relaxed. In fact, whole families relaxed together – husbands, mothers, children, relatives and friends – and did it constructively and with pleasure.
This year a number of interesting people visited the magazine's "living room" at the festival: parapsychologist Arina Yevdokimova, the host of the ABVGDeika program, actors from the Papiny Dochki (Papa's Daughters) television series, Yekaterina Volkova, Rosa Syabitova, Sergei Agapkin and Mikhail Politseimako, Mikhail Plotnikov, Alexander Selenyov and many others.
In the culinary and handicraft zones of the Domashny Ochag Institute, workshops were held one after another on making holiday greeting cards, patchwork doll charms, Christmas Tree ornaments and gift wrapping. Guests made orange soup, Kalia soup, handmade trout and other delicacies, and learned the secrets of Indian cuisine.
Neither were children overlooked at the festival: two large children's playrooms were available. What's more, almost all of the participants organized programs for children at their booths, keeping children active while their parents enjoyed shopping, learning new ideas and having free consultations with a child psychologist. The children made skirts and satin tiaras, braided pigtails in the Victoria's Secret family salon, experimented with sand drawings, watched dances and sang songs along with the Children's Music Academy, played board games, assembled TAS puzzles, worked in a digital studio, made honey cakes and tried on new items from the newest collection of Gulliver children's clothing.
This year, the Castorama company (home and repair stores) acted as general sponsor to the festival. The company contributed outstanding Christmas Trees, comfortable benches and an excellent kitchen for the festival's culinary zone. In addition, Castorama made an invaluable contribution to the overall atmosphere with its ideas for home remodeling and home improvements.
Among the participating companies that helped make the Domashny Ochag Festival interesting and practical were Nivea Visage, Nivea Styling, Yves Rocher, Lenovo, Lumene, Inkom Real Estate, Novy Disc, Business Bouquet, Wacom, 7 Krasok, Tefal, Isotoner, Obyekt Mechty, the AnderSon café, Vilea, Lotos, Husse, Oscar, MTK, Alisa, Hasbro, the Gulliver and Company/Gulliver shopping center, Fiesta Park hotel, the Other Things festival as well as many other participants without whom the Domashny Ochag Festival would never have been so inspiring and rich.
At the opening of the festival, children from the Children's Music Academy sang a hymn dedicated to Domashny Ochag. This moving song touched the heart of every woman present, and the magazine's editors hope that that impression will be long-lasting, just like the impressions from the Domashny Ochag Festival itself.
Domashny Ochag is already looking forward to seeing everyone at the fifth anniversary of the family festival to be held in 2011.