New Project From Robb Report Russia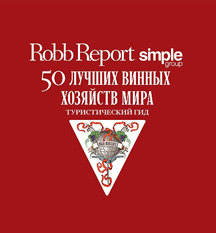 In December 2010, Robb Report Russia released a new book project: "A Tourist Guide to the World's 50 Best Wineries." The project combined the two themes of wine and travel in a single volume. This was no coincidence, since both subjects are very important to Robb Report Russia.
Travel is a frequent topic of discussion for the magazine. Robb Report editors believe there should always be a wealth of new travel destinations. Wine tourism is one of the most intellectual and, without a doubt, most pleasant forms of travel, and its number of adherents is constantly increasing. Wine culture embodies the principles of nobility and good taste, the very values that Robb Report Russia itself promotes.
The book "A Tourist Guide to the World's 50 Best Wineries" includes 50 unique wineries of the Old and New Worlds, accompanied by each winery's story and a detailed description of their approaches to winemaking and their great wines. For readers' convenience, the book includes a selection of outstanding hotels and restaurants in proximity to the wineries.
Igor Serdyuk, recognized wine critic and regular contributing author to Robb Report Russia, served as editor and consultant on the project.