Celebrating With Domashny Ochag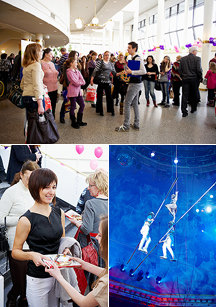 Domashny Ochag magazine and the Moscow city department for organizing and holding public events wished a Happy Women's Day to more than 2,000 women working in the social sphere. The event took place on March 7 at the Moscow Circus on Tsvetnoi Bulvar. At the entrance, every woman received complimentary Yves Rocher cosmetics, Riston tea and, of course, a couple of books from the "Cooking is Easy!" series.
During the festivities, Domashny Ochag held a quiz testing people's knowledge of the magazine and the events it has sponsored. Winners received prizes of kitchen sets and tablecloths and all participants took home the latest issue of the magazine.
Following the quiz, guests were treated to a festive concert by variety show and circus stars. Yury Antonov, Nadezhda Kadysheva and the Zolotoye Koltso (Golden Ring) ensemble, Tamara Gverdtsiteli, Ricardo Foli, Taisia Povaly, Natalya Koroleva and many others wished the ladies present a Happy Women's Day. As they left, all the women received bouquets of spring flowers. It was a wonderful celebration: warm-hearted, touching and truly feminine.
This is already the second such joint celebration the magazine has held this year. Domashy Ochag hopes to continue the tradition in the future.