Domashny Ochag Held Creating Comfort Festival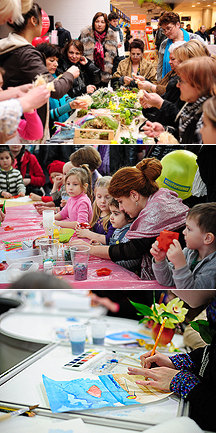 Domashny Ochag magazine and Castorama, the British home and repair supermarket chain – with informational support from First Popular radio – held the Creating Comfort family festival of home remodeling and creativity. More than 45,000 people visited the festival, held at the Kapitoly shopping center on Leningradskoye Shosse on April 9-10.
The entire ground floor of the shopping center – more than 1,000 square meters – was given over to making comfy areas for various workshops open to all comers. Participants could try a range of crafts and fashioning original handmade items. The activities were so unique and diverse that not a single indifferent woman could be found – each found something after her own heart.
Separate workshops in stand-alone areas were also held by the Handicraft Formula, Do-It-Yourself and Home magazines, the Center for Contemporary Packaging, the Gooseberry Floral Studio, Art Corner, Deagle Design, the Polymer Clay School of Sculpture, the Creative Center and Marvy.
The main Domashny Ochag Institute area was host to a number of interesting workshops: Decorative frames for photographs, decorative kitchen towels, the Spring in Paris project by the Gooseberry Studio, a novel arrangement of primrose, festive Easter table decorations, accessories of natural materials, knick-knack boxes made by hand with various "goodies," kirigame and origami with Yelena Teplitska, Learning to Make Flower Decorations on a Box with Olga Petrova of the Polymer Clay School of Sculpture, Drawing Seascapes with artist Valerio Libralato, Frames with Relief Designs and Decoupage Dolls with Tatiana Lapteva, Home Floristry with Sergei Novikov, Decorating an Easter Basket with Olga Savchenko and Lyubov Malenkina, TNT channel Remodeling School program designers and numerous other workshops. More than 250 diverse activities were held during the brief two days of the festival.
The Cooking is Easy! cookbook series and the May issue of the magazine were on display at the large Domashny Ochag booth. After the workshops, each participant was given the Cooking is Easy! book of their choice.
Men could do strictly masculine activities such as practice driving nails, sawing boards and painting walls – after all, consultants from the Castorama company were constantly circulating throughout the festival, holding contests and giving away prizes from its suppliers.
And, of course, festival organizers did not overlook little children. The Foresta chain of Moscow region hotels helped to provide a special zone for children at which parents could leave their kids in the care of animators who involved them in interesting and productive activities. These included a major tournament of "Serso" knights and a wide variety of workshops for making patchwork dolls, "drawing" with scissors, soap carving, sand drawing with the Sand Pro Studio as well as a dance workshop with the Children's Musical Academy.
Every guest was occupied with something fun and useful, but most importantly, a very warm-hearted atmosphere prevailed throughout the festival. Festival organizers and participants took great pleasure in helping everyone to learn as much as possible about how to make their homes more comfortable and pleasant.