The Collection Issue of Robb Report Russia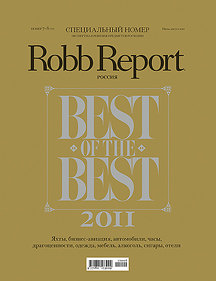 In July, Robb Report Russia releases Best of the Best, its annual collection issue. Traditionally, its pages include products and projects worth to be considered standards on the world's luxury market. Robb Report experts have collated the exhaustive list of the best luxury goods and services that appeared in 2011.
These include the novelties of sailing and motor yachts, unique models of the world's car industry, watches and best fine jewelry examples, the best of the best from famous clothing and footwear brands, furniture and the best hotels opened this year. In addition to traditional sections, this time the magazine presents business aviation and a bar and cigar category.
The issue also features funny stories about the luxury market and consumers, told by Robb Report contributors who know plenty of such cases.