Robb Report Russia at Venice Biennale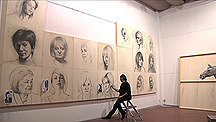 Robb Report Russia magazine has become the general information partner for the unique art project "The Other Side of Russia," which will be presented this year at the 54th Venice and 4th Moscow biennales. The art project's producers are Leonardo Rotatori, representative of the cultural fund Mazzotta Art Selection (Italy), and Victoria Saava, founder of "Cashmere and Silk."
The project's name coincides with Mao Zedong's aphorism "the other part of sky" — the part where women live. The project aims to show the face and soul of a contemporary Russian woman through a number of portraits. The project idea was implemented in a trendy installation — a 3x16-meter canvas that combines images of 40 women enriched by thousands of portraits published at www.faceandsoul.ru. The giant collective portrait was brought to life by Omar Galliani, an outstanding contemporary artist who combines traditions of exquisite Renaissance drawings and today's graphic features. All portraits were drawn with a graphite pencil in the maestro's indicative manner and were combined to make a single whole — the face of a contemporary woman — in spectators' imagination. In the words of the art project's, today this installation is the largest pencil-drawn graphic object in art history and will certainly become a sensation.
During the 54th Venice biennale the installation will be placed in palazzo Barbarigo Minotto. In Russia it will be exhibited as part of the 4th Moscow biennale in K35modern art gallery.
As part of the art project, gallery K35 and Robb Report Russia have planned a series of cultural events that will be held on July 6-7, 20-21 and 27-28. The intensive cultural program of the events includes Italian classic opera, excursions through Venice including a visit to the Venice biennale, and a gala dinner with Omar Galliani and central figures of the project on the picturesque Venetian island Mazzorba.