Cosmoshopping.ru Relaunches Site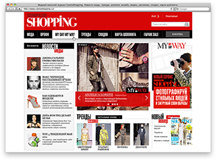 The Cosmoshopping.ru site that everyone has known and loved for the past three years has made basic structural and design changes. Now the site is even more convenient, useful and visually striking.
The relaunch has made the site more "social." Now users can not only post comments regarding the publication, but also converse directly with trendy bloggers, popular designers and fashion experts. Readers have already begun posing questions to fashion world experts Yulia Antontseva (Muz-TV VJ) and designer Igor Chapurin, and are reading the blog by Anastasia Pyatina.
Another feature on the site is "My Day – My Way," a new service on street fashion. In this section, users can post photographs of various street-fashion styles that either they or others have taken.
Whole new sections have also been introduced on the site. Fashion fans will appreciate the "Pro" section, which features important people in the world of fashion — designers, models, fashion bloggers and fashion experts. The "Battle of the Dresses" section is for those who like to evaluate celebrity wardrobes. For two years now, this section has been showing pairs of celebrities, each wearing the same dress. The "Trends" section continues to publish trends of current and future seasons, and it has now become easier to navigate through the material and simpler to view the photographs.
Join the shopaholic community now!