Robb Report Russia on Watches and Aviation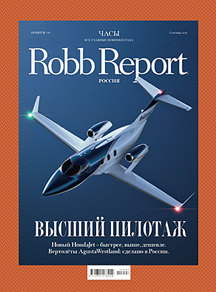 The September issue of Robb Report Russia presents all of the new developments in the world of watches for 2011. Watch editor Yury Khnychkin describes this year's trends in the premier models shown at the Salon International de la Haute Horlogerie in Geneva and the Baselworld exhibition in Basel, Switzerland, and also discusses the most interesting lots offered at the Only Watch auction in Monaco. The survey of watches excludes pretentious models: Any of the watches examined could undoubtedly become part of a collection or a family relic to be passed on to the next generations. Among the people featured in this section is Count Jacques von Polje, who came to Russia to revive the Soviet-era Raketa watch brand.
Aviation is the focus of the second feature story in this issue. Robb Report presents the innovative HondaJet, Honda Motor's first business jet and one that promises to become a serious contender in the aircraft industry. This section also offers a survey of the most reliable and powerful helicopters available. A special Robb Report section is devoted to alternative aviation and shows that one of mankind's age-old dreams is about to come true: Soon anyone will be able to fly like a bird. Readers will learn about a new appearance at the Le Bourget air show in Paris — the Solar Impulse, a solar-powered aircraft with a motorcycle-sized engine.
Wine, a traditional theme for every September issue, was not overlooked this time. Robb Report wine expert Igor Serdyuk selects the most important recent new alcoholic beverages with a distinct value as collectible objects and investments.
As always, the ongoing First Person column is full of interesting subjects. Robb Report editors met with a chef to kings and presidents and learned all about their culinary tastes, attended a jubilee race at Ascot and watched as Prince Harry and Prince William fought it out on the polo grounds.