Creativity Festival with Domashny Ochag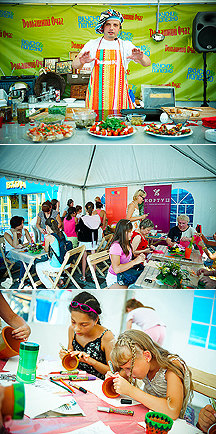 Domashny Ochag magazine and the Castorama home repair chain of hypermarkets held the Cozy & Comfy Festival of home repair and creativity in Shchyolkovo on Aug. 13 and 14.
On the Castorama store streetfront, a creative and bustling hub of activity unfolded under cozy tent tops housing nonstop workshops for all visitors. The workshops covered a wide range of interests: making buttonholes, mini table-top floral compositions, hair decorations, sashiko-style quilting, textile beads and fabric "roses" and dolls, embroidering with sewing machines, felting, soap making, carving, decoupage with a variety of objects, scrapbooking, polymer clay modeling and painting on glass, wood, ceramics and paper.
There were also masculine activities: Men practiced driving nails, sawing boards and painting walls. Castorama stores provided consultations and conducted contests with useful prizes for the winners. The smallest festival participants were not forgotten either: Parents could leave their children in a special kids' zone under the care of attendants.
The highlight of the festival was the "Introduction to Italian Cuisine" culinary show held in the Domashny Ochag kitchen. Guests could take part in preparing fresh salads, Tuscan antipasta and then homemade Italian pasta. Visitors to the festival also tried making Florentine cream — gelato and ordinary ice cream — and also Tiramisu, the light and airy dessert that can lift the mood of any Italian — or any lover of sweets the world over.
As always, a creative and warm-hearted atmosphere reigned at the festival. About 25,000 people attended the two-day event.