Robb Report Russia at Millionaire Boat Show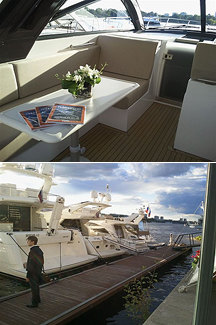 Robb Report Russia magazine presented its September issue at the Millionaire Boat Show 2011, an exposition of yachts and luxury goods and services.
The Royal Yacht Club, traditionally one of Russia's largest yacht shows, was transformed into a unique exposition from Sept. 2 to 4 when it incorporated a display of luxury goods and changed its name to the Millionaire Boat Show. Guests could view not only current models made by world-famous yacht brands, but could also check out new automobiles, watches and other luxury items.
A full entertainment program accompanied the event. The three days of festivities included the 2011 Moscow Yacht Show Awards for achievements in the yachting business, a yacht parade, a performance by the Ivanov brothers and a cooking show with Artyom Sorokin and Russian celebrities. The exhibition brought together the capital's cultural and business elite and became one more of this fall's most outstanding events.
Robb Report Russia displayed its September issue directly on each of the yachts in the show. While viewing the boats, guests could also peruse the magazine — which focuses on the luxury segment as well as yachts.