Collectible Edition of Cosmopolitan Shopping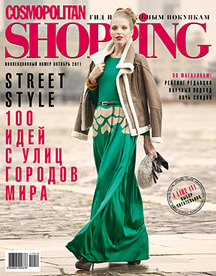 The October issue of Cosmopolitan Shopping has been released in large format, going from pocket-size to extra large for the first time in its seven-year history. The unusual issue serves as a platform to launch striking editorial ideas — from a fashion shoot and sophisticated illustrations to beauty portraits.
This issue includes:
A special international Street Fashion section;
An editors' rating of the best stores;
The latest trends;
The best accessories;
Fashion stories and practical advice.
An advertising campaign supporting the release of the October issue includes ads on the Energy, Pervoye Populyarnoye and Shokolad radio stations and banner ads on cosmo.ru, woman.ru and lookatme.ru, as well as on social networks.