Robb Report Russia: All about Jewelry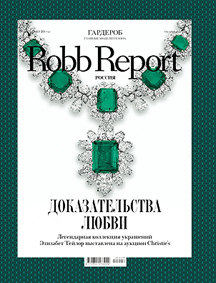 Robb Report Russia devotes its October issue to jewelry. The magazine selects the best jewelry with colorful precious and semiprecious stones, introduces designer trends and news from the jewelry segment of the global antiques market and offers advice on where to obtain a gemological education to begin assessing gems as a connoisseur. The top story of that section features the legendary jewelry collection of Elizabeth Taylor, a treasure that Christie's will auction off in December.
The second theme in this issue deals with wardrobe. Robb Report learned the secrets of Anderson & Sheppard, the most exclusive tailor in London, met with the owners of the best men's stores in Moscow, chose the main clothing models from the fall-winter season collection and learned how items that become the pride of the Italian luxury industry are created.
This time, the regular First Person column tells of a private island in Fiji. The magazine's editors visited the island and became convinced that a utopian state does exist. Also in this section: the resume of a 21st-century cookbook, test-drive a BMW 6 Series coupe, and a report from the prestigious Nautor's Swan regatta.