'Cooking Is Easy' with Domashny Ochag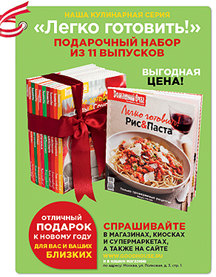 Domashny Ochag presents "Cooking Is Easy!" — an 11-volume gift set of cookbooks released for the New Year's season and covering a wide range of topics.
In addition to proven recipes, readers will find such useful information as the best way to cook rice, peel and cut vegetables, prepare meat and chicken, separate foods when serving, proper food storage and much more. Illustrations and step-by-step instructions considerably enhance the valuable cooking tips.
The "Cooking Is Easy!" series brings together the best of home cooking and makes an outstanding all-round practical culinary manual. These are not dishes divorced from real life; they are real meals that have been tested in the Domashny Ochag kitchen and deemed suitable for preparation at home. The convenient format, practical advice, vivid illustrations and impeccable design make the "Cooking Is Easy!" series the perfect gift for any modern wife and mother who aims for success in everything she does.
The gift set collection includes the titles "Lunch & Dinner," "Pastries & Baked Goods," "Setting the Table & Entertaining," "Meat & Poultry," "Cakes & Cookies," "Food for Your Health and for the Fast," "Shish Kebab & Grill," "Salads & Vegetables," "Pickling & Preserves," "Soups & Sauces" and "Rice & Pasta."
More information and a special gift set price are available on the Domashny Ochag website.