Reader on Cover of Cosmopolitan Shopping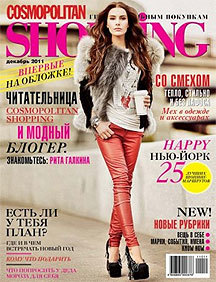 For the first time in the history of Cosmopolitan Shopping magazine, a reader — Rita Galkina — graces the cover instead of a professional model. Galkina gained that opportunity thanks to the "My Day – My Way" service on the www.cosmoshopping.ru site.
Editors selected the two most stylish young ladies among those who had submitted their photographs and left it to the site's users to choose which one they wanted to see on the December cover. The voting was very close: The number of visitors to the site increased several-fold, and each woman received more than 2,000 votes.
The winner, Rita Galkina, displayed real professionalism during the photo shoot. She chose the items for the photo session along with Cosmopolitan Shopping editor-in-chief Anastasia Pyatina. According to Pyatina, the two quickly found a common language. Galkina's makeup and hair style were provided by Ernest Muntaniol, the leading makeup artist for Chanel in Russia. Talented fashion photographer Daniil Golovkin shot the images. Tamara Pogorelova acted as the producer of the shoot and Andrei Kozyrev filmed the video report.
All of the materials covering the event were posted on the site and in social networks and have enjoyed great popularity. More than 40,000 people have viewed the video of the photo shoot and the interview with Galkina.
The December issue of Cosmopolitan Shopping goes on sale Nov. 22.