Robb Report Russia in December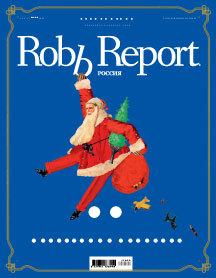 The December double issue of Robb Report Russia is devoted to New Year's gifts and eccentricities. Editors and experts selected the 30 most coveted gifts, including candles owned by a French king, a magic lantern, a futuristic sleigh, a portable casino, a mobile bar, 100-year-old champagne, a chess set made from mammoth tusks as well as unique watches, jewels, appliances and automobiles. As always, Robb Report adheres to its traditional principles of choosing only the best, the most unique and affordable New Year's gifts. The cost of the items starts at 110 euros.
Robb Report turns its attention to the theme of eccentricities for the first time and seeks to justify the existence of strange and challenging objects that are often deliberately useless and outrageously expensive — items such as sex dolls that are indistinguishable from real people, stuffed mermaids and griffons, armor for mice and cats, computers made from marble and ebony and cufflinks with tourbillion. The magazine believes that eccentricity is not a form of bad taste. It is not opposed to good taste, but exists alongside it as a peculiar deviation from the accepted rules, norms and conventions.
On the pages of the traditional "First Person" column, Robb Report Russia automotive experts test-drive the Continental GTC, the "most emotional Bentley," the timepiece editor recalls the glorious 80-year history of the Jaeger-LeCoultre Reverso, and the restaurant critic observes Rembrandt at work in the kitchen of the Pierre Gagnaire gourmet eatery.
Robb Report Russia wishes everyone a Happy New Year and hopes that something unusual will make this year especially memorable!