Cosmopolitan Enters Jewelry Market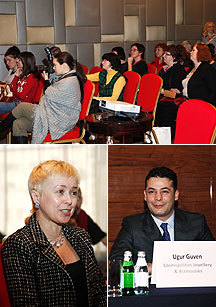 Cosmopolitan magazine announced the opening of jewelry boutiques and stores for women's accessories under its own brand name. A press conference devoted to the event was held at the Lotte Hotel on Feb. 7.
After studying the jewelry market, the owners of the Cosmopolitan trademark decided that the Russian market offers the most promise for opening a new chain of jewelry stores. The Cosmopolitan Fine Jewelry stores will cater to the "upper middle class" and "premium" market segments. Plans call for the annual release of seven new lines of jewelry made from gold and precious stones. Separate Cosmopolitan Accessories stores will offer silver jewelry and related accessories such as watches, scarves, sunglasses, handbags and hair accessories.
Cosmopolitan will rely on the variety of its collections and the uniqueness of its products as the key strategy for developing its jewelry business. According to Cosmopolitan Jewelry & Accessories company general director Ugur Guven, "The best world-class jewelers from such countries as the United States, Italy, France and Brazil will contribute to the creation of each collection. Cosmopolitan magazine has traditionally been a trendsetter in style for modern women around the world. Now Cosmopolitan will also set the standard in jewelry and accessories for fashion-conscious women," Guven said.
According to Cosmopolitan group publisher Elena Vasillieva, "The jewelry business is a completely new direction for developing the magazine brand, an approach not used anywhere else in the world. We are accustomed to being leaders, and we believe in the success of this endeavor because we have all of the necessary requirements: a reliable partner with strong experience in the jewelry business who shares the same tastes as Cosmopolitan, a loyal audience that loves Cosmo in all of its manifestations, and finally, the synergy that comes from two strong teams that know precisely how to make a high-quality product that is both beautiful and profitable," Vasillieva said.
The first Cosmopolitan brand jewelry store will open its doors as early as spring 2012. In January, the jewelry company already signed contracts to open retail spaces in Moscow's more popular shopping centers. In all, the new venture plans to open 10 Cosmopolitan Fine Jewelry boutiques and 20 Cosmopolitan Fine Jewelry stores in 2012. The first stage of development will focus on cities in central Russia. Over the next seven to 10 years, plans call for increasing the number of stores to 250 nationwide. Initial investment in the project totals $25 million.