Domashny Ochag at "Land of Women"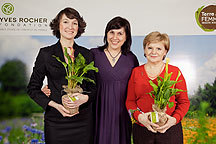 Domashny Ochag magazine served as media partner to the "Terre de Femmes – Land of Women" project for the seventh time. The seventh annual awards ceremony was held at the French Embassy in Moscow.
The Yves Rocher Foundation, under the auspices of the Institute of France, held its seventh annual awards ceremony for its "Terre de Femmes – Land of Women" competition. This year's competition featured a record number of projects – more than 200. The expert jury included representatives of the Yves Rocher Foundation, members of environmental organizations and Domashny Ochag Editor-in-Chief Maria Vinogradova. The jury had the task of selecting the three most worthy and beneficial projects.
Grants were awarded to three women engaged in educational and practical work in the environmental field. The First Place prize of 10,000 euros went to Natalia Shishunova of Veliky Novgorod for her project "Veliky Novgorod Will Have a Lilac Garden!" The Second Place prize of 5,000 euros went to Tatiana Urnysheva of Syktyvkar for her project "Arrayed in Oak Leaves – My Native Komi Region." The Third Place prize of 3,000 euros was given to Anna Pankova of Rostov-on-Don for her project "The Rostov Way."
Domashny Ochag magazine also awarded its own prize to two more contestants – Muscovites Maria Belous, director of the "Share and Enjoy!" project, and Tatiana Feoktistova, organizer of a children's ecological movement. The May issue will be devoted to the environment and will feature their stories on its pages.
An extraordinary ambiance reigned during the awards event in the embassy's ceremonial hall. The festive atmosphere, flowers, the anxious contestants, speeches and the giving of the awards … Soon their anxiety was replaced by smiles and tears of joy when the winners were announced. This is the seventh time that the awards have been presented in Russia, but each time, the winners, spectators and organizers of the event are filled with emotion. It is impossible to remain indifferent to the work these women are doing. Thanks to their initiative, enthusiasm and faith, our world is becoming cleaner, greener and more beautiful.