Flowers from Domashny Ochag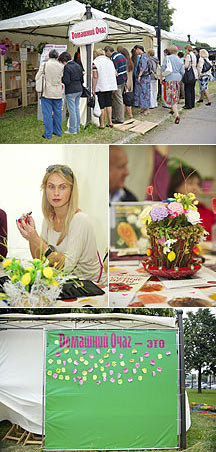 Domashny Ochag magazine participated in the first annual summer Garden Fest on June 21-24 in the Muzeon Park of the Arts at Krymsky Val.
At its flower-festooned booth, the magazine held a variety of workshops united by a single idea: flowers as a decoration for the individual and home. The classes were conducted by Domashny Ochag Institute instructors and business partners of the magazine who had been invited to the event.
Guests had great fun weaving garlands and bracelets, creating mobile flower beds and floral greeting cards, shaping their fantasies into floral designs in dough, and making decorations from polymer clay, as well as hats with flowers and flower-shaped velvet brooches, decorating flower pots, preparing floral arrangements for the dinner table, painting stain glass and much more.
Following the workshops, guests were invited to brainstorm about what the phrase "hearth and home" means for them and to write their thoughts on a special panel bedecked in flowers. The magazine then awarded prizes to the participants who submitted the best ideas.