Domashny Ochag and Vkusno i Polezno at Food Show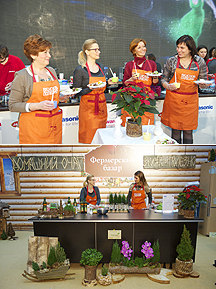 Domashny Ochag magazine and Vkusno i Polezno took part in the Food Show festival held from Nov. 30 to Dec. 2 at Gostiny Dvor.
The magazines acted as partners to the Farmers' Market section of the festival. With the help of specialists from the Priroda Darit (Nature Provides) company and using all-natural materials, a real little farm was built with a kitchen that continually prepared delicious and healthy foods made from farm products.
An accordionist provided playful accompaniment to the opening of the magazines' booth at the Food Show. Next, consulting chef to the magazines Oleg Sotnikov treated guests to quail, delicious fish and a variety of desserts. There was something fun for kids as well: sand painting workshops where they learned to draw plants and animals. As always, a very warm and homey atmosphere prevailed at the booth.
The magazines' team also took part in the Culinary Star competition. The participants were charged with creating a fitting New Year's table setting following the end of the world. The Domashny Ochag and Vkusno i Polezno team took the "friendliest team" award.