Cosmopolitan Shopping: Non-Stop Discount Night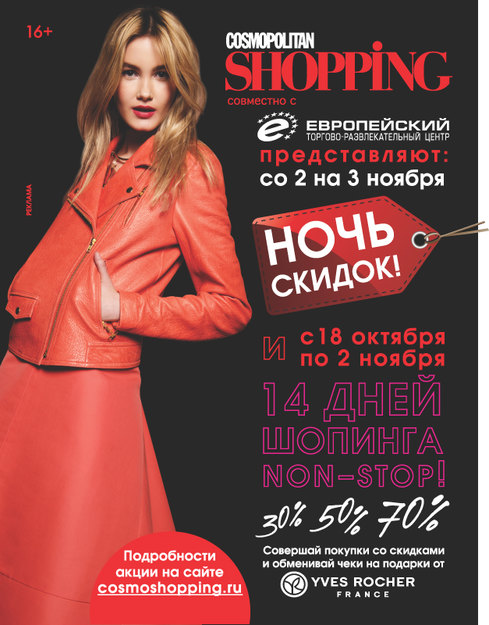 Cosmopolitan Shopping magazine and the Yevropeisky shopping center present the most anticipated event of the fall — a huge, non-stop night of discounts. The event will be held on the night of November 2-3 from midnight until 6 am.
This year's Cosmopolitan Shopping discount night will rock! Guests will find live performances and fashion shows by Bessini, Mascotte, Westland, Mexx, Snezhnaya Koroleva and other brands. But most importantly, at the very height of the season, everyone will be able to pick up the hottest items from the top collections at huge savings. In addition to discounts of at least 30 percent at more than 300 stores, shopping lovers will enjoy complimentary gifts and surprises throughout the night and special prizes for the most active buyers – shopping with celebrities, a photo shoot for Cosmopolitan Shopping magazine, professional photographers and a star-studded show from Energy radio.
This year, Cosmopolitan Shopping Editor-in-Chief Alisa Radlova will be offering fashion tips in a special zone. And per tradition, celebrity personalities will be on hand to give shopping advice. They include Irena Ponaroshka, the 23:45 group, Mitya Fomin, Dmitry Koldun, Sati Kazanova, Irina Ortman, Oxana Ustinova and Rita Che of the Einstein Girls, Artem Korolev, Alena Vodonayeva, Yulia Kovalchuk, Nikolai Timofeyev, the 5sta group, Yulia Plaxina, the Assorti group, Igor Lantratov, Belka and many others. The celebrity consultants will be joined by such fashion bloggers as Anna Russka, Sofi Yeliseyeva, Rita Galkina, Vika Platina, Lola (Olya Kazantseva) and others.
A special promotional campaign supporting the non-stop discount night will run from October 18 through November 2, with the magazine hosting a special branded promo zone at the Yevropeisky mall, and participating stores displaying discounted products with tags reading "Choice of Cosmopolitan Shopping Stylists." The magazine will also give complimentary gifts to everyone buying items totaling 5,000 rubles or more. Find more information on the promo at www.cosmoshopping.ru.
Cosmopolitan Shopping — your most important purchase!