Cosmopolitan Shopping Held Discount Night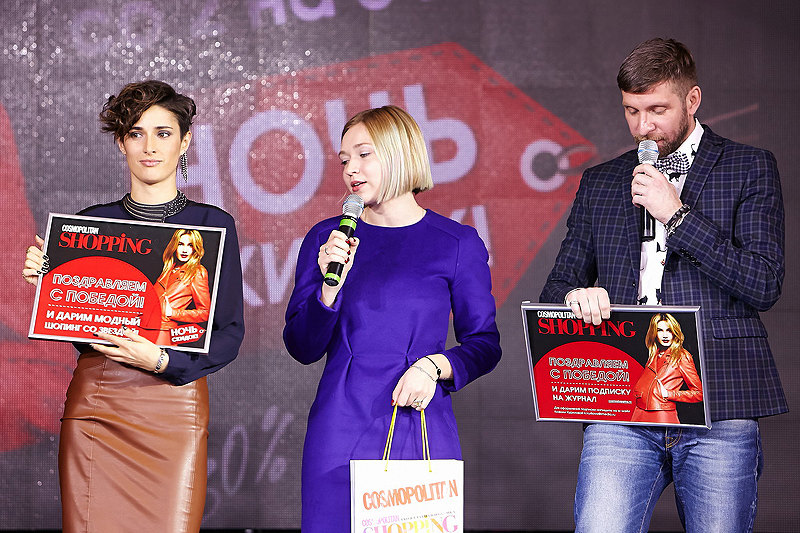 The sixth mammoth Cosmopolitan Shopping Non-Stop Discount Night was held on the night of November 2nd at the Yevropeisky shopping center.
Throughout the night, Yevropeisky shoppers took advantage of discounts of 30%, 50% and 70% in more than 300 stores and enjoyed fashion shows by the Bessini, Nika, Sela, Westland and Levi's brands and performances by Vlad Sokolovsky, the 23:45 group, Yulia Plaxina and many others.
Well-known showman Archie and Muz-TV VJ Rita Chelmakova kept guests in a great mood, thrilling them with contests and this year's unusually large number of complimentary gifts. At the Cosmopolitan Shopping zone, shoppers presenting store receipts of up to 5,000 rubles could choose between a free ticket to the Formula Kino movie theater chain or a silver Valtera pendant. They could redeem receipts of more than 5,000 rubles for an Yves Rocher Botanical Beauty cosmetics kit. 
Yevropeisky shopping center raffled off an Opel Astra automobile, generating considerable excitement among guests. Meanwhile, Cosmopolitan Shopping awarded those it deemed the most stylish guests a chance to shop with fashion experts, designers and TV show host Vlad Lisovtsom, and the opportunity to pose in a photo shoot for the magazine.
Cosmopolitan Shopping Editor-in-Chief Alisa Radlova provided fashion tips in a special venue and, per tradition, a number of show business celebrities served as shopping experts. They included Irina Ortman, Rita Chelmakova, Artem Korolev, Igor Gulyayev, Andrei Razygrayev, Tatiana Tereshina, Elena Kuletskaya, Yulia Plaxina, Miss Russia 2013 Anna Gorodzhaya, Olga Danka, Igor Lantratov, Dmitry Bikbayev and Elena Usanova. They were joined by fashion bloggers Anna Russka, Sofi Eliseyeva, Anna Brein, Rita Galkina, Viktoria Platina and Lola (Olga Kazantseva).
A special campaign promoted the Non-Stop Discount Night concept during the run-up to the event. From October 18 through November 2, shoppers could visit a Cosmopolitan Shopping promo zone in the Yevropeisky shopping center where they could redeem receipts of 5,000 rubles or more for complimentary gifts. During the event itself, participating stores discounted selected items and marked them with special tags reading "Choice of Cosmopolitan Shopping Stylists."
Readers will find photo and video coverage of the event on the pages and websites of the Cosmopolitan group of publications as well as in the Grazia, Harper's Bazaar, Domashny Ochag and Hello magazines, on the Moskva 24, Yu, Muz-TV, World Fashion Channel and Pyatnitsa television channels and on the site geometria.ru.
This year's Discount Night coincided with updates to Cosmopolitan Shopping magazine: the November issue includes a new cover design and even more surprises and changes are in store for the future.
Cosmopolitan Shopping — your most important purchase!