Robb Report Russia at Luxury Lifestyle Awards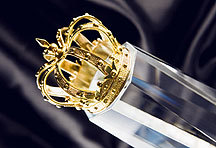 The 2013 Luxury Lifestyle Awards ceremony will be held at the Lotte Hotel in Moscow on November 29. Robb Report Russia magazine served as general media partner to the event.
The Luxury Lifestyle Awards are an annual international award presented to luxury sector companies demonstrating exceptional achievement and initiative. The winners represent the best companies and brands from a range of luxury industry segments. A jury of major business owners, chief editors of luxury-related publications and authoritative experts typically judges the contestants. PricewaterhouseCoopers invariably serves as a consultant to the event. The winners receive a symbolic Golden Crown statuette.
Entrants from Russia, Kazakhstan, Ukraine and Azerbaijan will compete together for the first time this year and the expert jury will choose winners in 15 categories. Organizers chose "The Great Gatsby" as the awards ceremony theme and anticipate an enchanting spectacle.
Robb Report Russia will present valuable gifts to VIP guests of the 2013 Luxury Lifestyle Awards as well as a prize for the winner in a special category to be judged by the magazine.