New Year's Changes with Domashny Ochag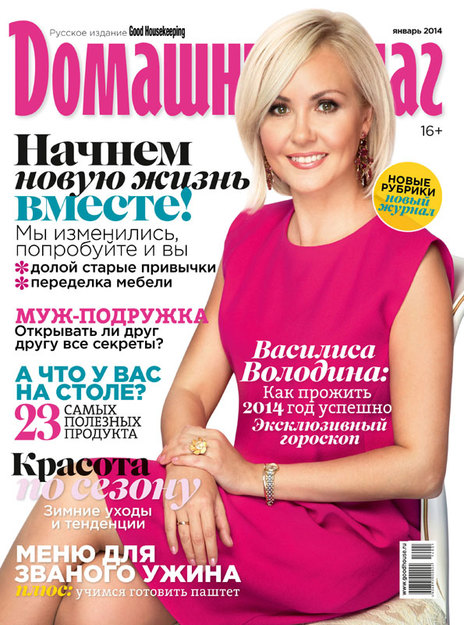 Domashny Ochag magazine is marking the start of the New Year with a new format, structure and design. Even with a new structure, editors have retained all of the main elements so that now the magazine looks like several magazines devoted to different interests, each with its own cover, and all bound together in a single publication. Now it has become an all-in-one magazine: fashion, beauty, celebrity lives, psychology, health, interior design, cooking — in short, everything that modern women find interesting.
In the January issue readers will find an interesting menu for the most heartfelt and family-oriented holiday — Christmas, tips on how to resolve the 10 most common problems of winter and ways a woman can preserve her natural beauty. Astrologist Vasilisa Volodina will also explain what 2014 has in store for us.
Also in this issue:
People & Events: shows, new books, concerts, films and circus performances;
Fashion & Beauty: what's new this month – floral fragrances, a palette of shadings, the best products for the eyes;
Family & Relationships: should a spouse be a friend, the "other half" or a complete and autonomous person;
Home & Interior: unusual uses for ordinary things;
Health & Fitness: 23 products you should have on your table;
Recipes & Cooking: the gingerbread house – easy to assembly, tasty to eat;
Travel: delicious and healthy Finland.
A major advertising campaign accompanies the release of the January issue and includes support in such popular glossy magazines as KhlebSol, Jamie Magazine, Moi krokha i ya, National Geographic Russia, Cosmopolitan and Cosmopolitan Psychology. Ads announcing the release also ran on the Shokolad and Dacha radio stations and the Mat i ditya, Yeda and TLC television channels.
The January issue of Domashny Ochag magazine went on sale Dec. 10.