Domashny Ochag and Oranzhevy Furgon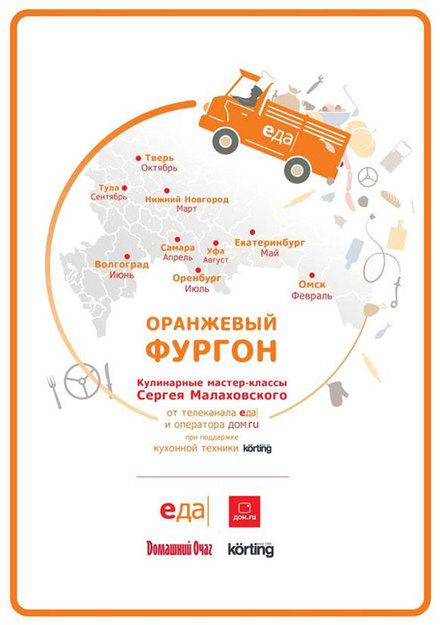 Domashny Ochag magazine serves as general media partner to the Oranzhevy Furgon (Orange Van) project by the Yeda (Food) TV channel that will run from February to October in nine Russian cities. The project features a series of cooking classes under the direction of chef Sergei Malakhovsky.
The Orange Van will make its first stop in Omsk. On Feb. 22 at 2 p.m., Sergei Malakhovsky will conduct a cooking class on salads, meat dishes and desserts at the Baloven restaurant at Irtyshskaya Naberezhnaya 11, room 2. In addition to tasting the results, guests will receive prizes from the Food channel and Orange Van partners.
The cooking classes will take place in Nizhny Novgorod in March, in Samara in April, Yekaterinburg in May, Volgograd in June, Orenburg in July, Ufa in August, Tula in September and Tver in October.
As media partner to the project, the Domashny Ochag logo will appear on all related printed products, project emblems, banners, press releases and TV commercials. During the cooking classes, each venue space will include roll-up stands and guests of the event will not only receive complimentary copies of the latest issue of Domashny Ochag, but also compete to win a free subscription.