Robb Report Russia at Baselworld 2014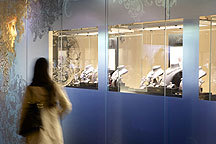 Robb Report Russia magazine is taking part in Baselworld 2014, a major watch and jewelry exhibition held this year from March 27 to April 3 in Basel, Switzerland.
Over the past 10 years, the exhibition has become one of the world's largest venues showcasing the latest trends in the watch and jewelry segments, as well as one of the most significant retail events in the field. More than 1,400 of the most famous watch and jewelry brands take part in the exhibition each year.
The opening of a new display pavilion designed by the world famous architectural firm Herzog & de Meuron marked one of the highpoints of this year's exhibition. The exhibition organizers are confident that the stylish new pavilion will add both breadth and beauty to the event. For eight days, the spacious and stylish halls of Baselworld 2014 serve as a meeting place for representatives of the most renowned watch and jewelry brands, as well as for connoisseurs of the world of true luxury. The new products presented at Baselworld determine the trends for the luxury class items that are bought and sold around the world.
Robb Report Russia is presenting its March issue at the exhibition for all the participants and guests of the event to read.