Robb Report Russia in June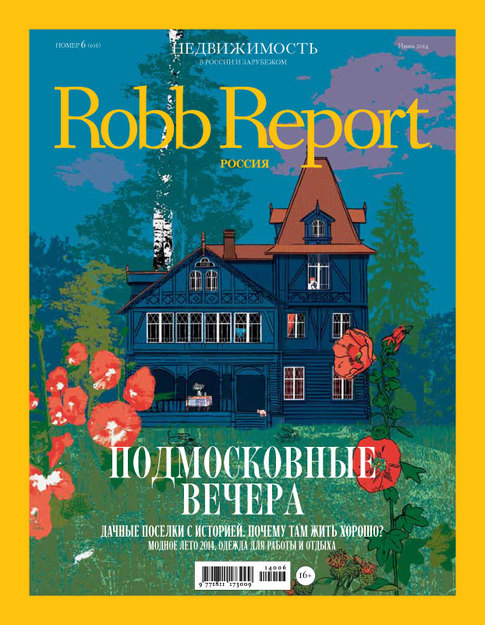 The June issue of Robb Report Russia is devoted to real estate. The magazine's experts walked among venerable old dacha neighborhoods, learned the real estate prices on homes in new elite settlements, veritable palaces and sprawling estates in the best sections of the Moscow suburbs, assessed the advisability of investing in overseas real estate and also chose the most interesting real estate offers on Saint-Jean-Cap-Ferrat, in Lausanne and Lade Como.
The issue is also devoted to the subject of design. Robb Report presents the latest trends and iconic objects from the Milan furniture exhibition Salone Internazionale del Mobile — the year's main event for everyone interested in interior design. The magazine's experts also discovered whom Lexus had in mind when the automaker established its design award, visited the Australian town of Byron Bay and evaluated the Italian-built and decorated ideal villa, and in Moscow spoke with the head of AlterEgo's design team and creative bureau.
For the regular First Person column, Robb Report test drove the new Acura MDX crossover on the Ice Driving Academy track in the French Val Thorens, observed preparations of a Porsche prototype vehicle for the famous Le Mans race, sampled culinary masterpieces at the ninth international Pitti Taste exhibition and learned the buying price for ceramics by Pablo Picasso.
Robb Report Russia also adds to its regular columns this month. Starting with the June issue, the magazine will launch its own school of etiquette. Good manners are worth their weight in gold but, unfortunately, are becoming increasingly rare these days. They cannot be bought at any price, but they are easy enough to learn (or relearn) by becoming a regular reader of the Etiquette column on the last page of Robb Report Russia, where you can find full explanations of the rules of conduct for meeting people and interacting with others.