Domashny Ochag in December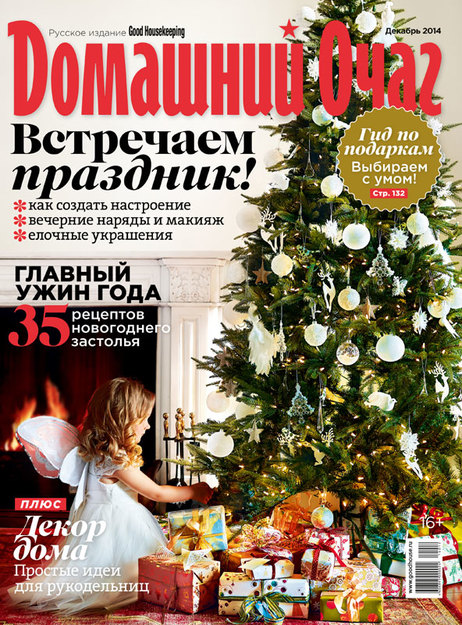 The first winter issue of Domashny Ochag magazine is devoted to getting ready for the long-awaited New Year holidays. Readers will learn everything they need to know about how to prepare for the main evening of the year: the issue includes recipes for the New Year's dinner table, ideas for evening outfits, makeup and holiday home decor as well as a special gift guide.
Also, inspiring and successful women share how the year has been special for them, what they expect from 2015 and how they will spend the winter holidays.
Also in this issue:
Events & people: Premieres, December events calendar – ice shows, holiday pageants for kids, concerts, films and new books;
Fashion & beauty: six trendy colors – the latest dresses, jewelry and accessories;
Family & relations: why we need family traditions;
Home & interior: choosing a real Christmas tree;
Health & fitness: slim down in 30 days, get in shape in a few weeks and a program from dietician Rimma Moisenko that will help you celebrate the New Year in all its glory;
Recipes & cooking: delicious holidays – rabbit pate, bruschetta with salmon, roast lamb with rosemary, cherry and carrot cakes;
Travel: Vietnam and Cambodia, the Maldives and western Finland.
The December issue of Domashny Ochag is advertised in promotional spreads in the magazine Gastronom (Gourmet), on the websites 7ya.ru, Eva.ru, Woman.ru, Passion.ru and Jv.ru, with television commercials on the channels TLC, Khukhnia TV (Kitchen TV), Telecafe, Eda (Food), Mat i ditya (Mother and Child), Nickelodeon and TNT and on radio stations Romantika, Best FM and Retro FM.
The magazine went on sale November 18.