Domashny Ochag in January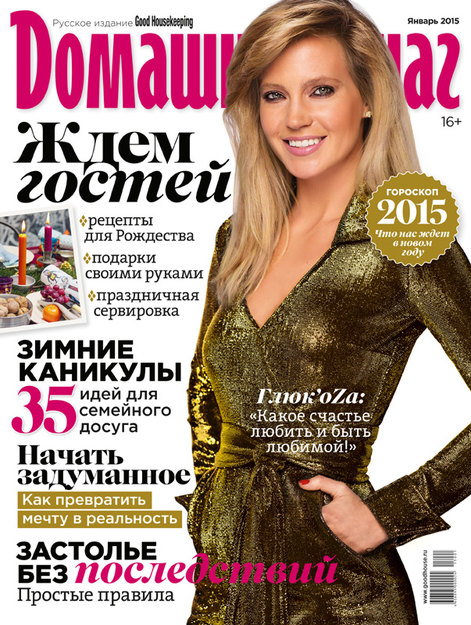 The upcoming year is a special one for Domashny Ochag as it turns 20. The magazine was one of the first women's glossy publications to appear on the Russian market.
The magazine has dedicated the year to devoted homemakers and announced a writing competition in which readers are invited to submit stories and photographs about themselves or their female friends, their talents, interests and achievements in any field. The winners will be announced in the magazine's November 2015 anniversary issue, and the stories will be published on the magazine's website.
The featured woman of the first issue of 2015 is Natalia Chistyakova-Ionova, Russian singer, songwriter, movie actress, voiceover artist, television host and winner of the 2003 MTV Europe award. Her debut album "Glyuk'oZaNostra" became an international hit and her singles "Nevesta" and "Nenavizhu" topped the Russian and Ukrainian charts. In an interview with the magazine, the singer spoke about her large family, her daughters, her belief in marriage, Christmas, her interest in yoga and also shared her plans for 2015.
Also in this issue:
Events & people: premieres, November events calendar and Stanislav Duzhnikov gives a man's view of what women should know about them;
Fashion & beauty: holidays in the countryside – warm, comfortable and fashionable clothing for relaxing in nature;
Family & relations: 12 good deeds that you can do right now;
Home & interior: bake cookies and putting together homemade gift decorations for Christmas Eve;
Health & fitness: problem-free holidays – a few rules to ensure the holidays are celebrated without doctors or medicines;
Recipes & cooking: a la buffet – 16 mini appetizers for the holiday;
Travel: miraculous Tenerife – the Canary Islands' must-see attractions.
The January issue went on sale December 16.