Natalia Rodikova Named New Chief Editor of Domashny Ochag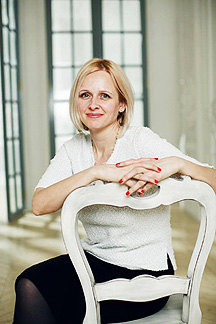 The Sanoma Independent Media (SIM) publishing house has appointed Natalia Rodikova as Domashny Ochag magazine's new editor-in-chief. The May issue of the magazine will be the first prepared under her direction.
Prior to joining SIM, Rodikova was chief editor of the Mat i Ditya (Mother and Child) television channel where she began working as an editor in 2007. She began her career as a journalist in 1997, later working as a host and director of television programs produced by the RVR company, and then moving on to serve as deputy editor-in-chief of the regional magazine Dorogoye Udovolstviye (Pricy Pleasures).
Maria Vinogradova, acting executive director of the SIM Fashion Press division and publisher of Domashny Ochag, said, "Domashny Ochag magazine is especially dear to me and it was not easy handing it over to someone new. But the scope of my responsibilities has greatly expanded and I am now busy with many other SIM projects, so it was inevitable that the question of finding someone to replace me as Domashny Ochag chief editor would arise. It was important to find not only an experienced manager who understood the magazine's format and audience, but someone who shares our vision and who would retain all of the improvements and innovations we have developed over the years. When I first met Natalia during a joint project between the Mat i ditya television channel and Domashny Ochag magazine, I understood that she was the right person. I will continue as publisher of the magazine and will be happy to work on the same team with Natalia."
"The offer to join the Domashny Ochag team was unexpected but very inspiring," Rodikova said.
"It is a great honor for me to work with such a prestigious brand and an editorial board that for many years has produced one of the best women's magazines available. It is also a serious challenge considering today's difficult market conditions. The most important task at the moment is to maintain the momentum of the growing readership."