Domashny Ochag in March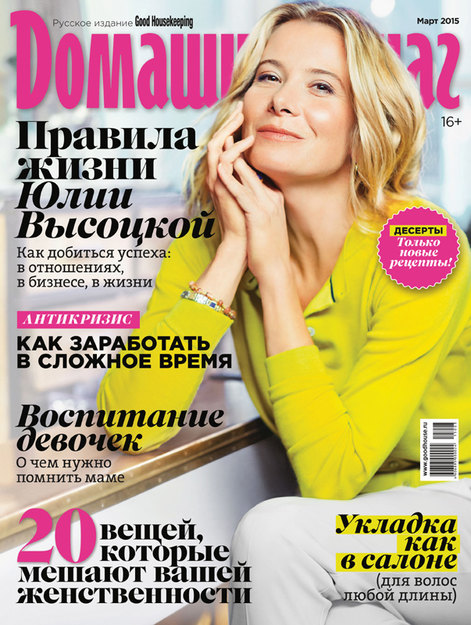 The March issue of Domashny Ochag magazine, featuring Yulia Vysotskaya, is out now. In the magazine, the TV hostess and stage and screen actress gives her advice on what you should remember, understand and learn, and how to relate to people, work and events.
Readers will also learn how to earn a living in tough times with five real-life examples of turning a hobby into a profitable business. Parenting experts also give advice on providing daughters with a balanced upbringing and on helping them be happy and successful.
Also in this issue:
Events & people: Premieres, a calendar of events for March and actor Yury Kolokolnikov gives a man's take on what women should know about them;
Fashion & beauty: What goes with midi skirts – favorite items, combinations, fashion looks for all occasions;
Family & relationships: 50 shades of love – the different stages of every couple inevitably goes through in a relationship;
Home & interior: 7 simple ways to change your home's interior without spending a penny;
Health & fitness: everything you need to know about women's health;
Recipes & cooking: Russian pancakes – bake them, serve them, have a few yourself and try out new and interesting ideas;
Travel: Japan – out of the past and into the future.
Domashny Ochag magazine celebrates 20 years in Russia in 2015, and the magazine is devoting the year to their readers. It also announced a major competition for women with prizes in five categories: Most Stylish, Super Mom, Success & Career, Good Deeds and Gifted Hands. Women should tell Domashny Ochag about themselves, their talents and interests and achievements in any field to stand a chance at winning the prizes. Find more information about the contest at www.goodhouse.ru.
The March issue went on sale February 17. The electronic version is available in the App Store and from Google Play.