Domashny Ochag in April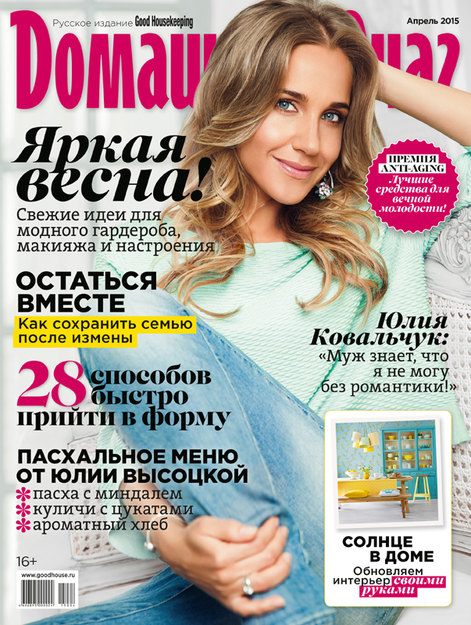 Domashny Ochag magazine's April issue, with expert tips for a fashionable wardrobes and makeup as well as 28 easy ways to get in shape fast and feel younger, is available now. It also includes articles on the best family vacation destinations and an Easter menu from Yulia Vysotskaya.
This issue's featured celebrity, singer and television personality Yulia Kovalchuk, shares her secrets of maintaining a happy family life, describes her domestic life and how she recharges her batteries.
Also in this issue:
Events & people: premieres, April's calendar of events and actor Andrei Burkovsky gives a man's take on what women should know about them;
Fashion & beauty: stylish manicures and seductive fragrances;
Family & relationships: why children need free time and if taking part in many after-school activities are a good idea;
Home & interior: 17 ways to put your home in order;
Health & fitness: how your weight affects your marriage;
Recipes & cooking: a diet your taste buds will celebrate;
Travel: the Seychelles – at one with nature.
Readers will also find the results of Domashny Ochag's annual Anti-Aging Awards – a list of the best anti-aging cosmetics chosen by the magazine and top experts in the field.
Domashny Ochag magazine marks 20 years in Russia in 2015 and to celebrate, the magazine is devoting the year to its readers. It has announced a major competition for women, with prizes in five categories: Most Stylish, Super Mom, Success & Career, Good Deeds and Gifted Hands. Women should tell Domashny Ochag about themselves, their talents and interests and achievements in any field to stand a chance at winning prizes. Details about the contest can be found at www.goodhouse.ru.
The magazine went on sale March 17. The electronic version of Domashny Ochag is available from the App Store and Google Play.