Cosmopolitan Shopping in April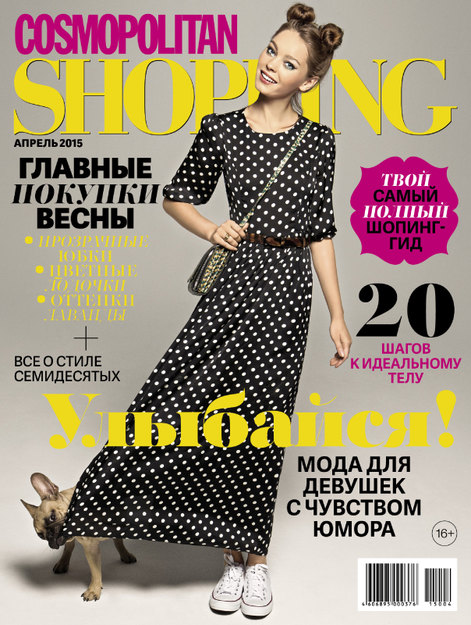 The new issue of Cosmopolitan Shopping magazine is now out. The top story in April: "Smile! Fashion for young women – with a sense of humor." Of course, this does not mean girls should wear just about any old thing they fancy. On the contrary, readers will learn how to combine this season's colors and textures, and how to have fun with contrasts. And remember, a genuine smile is the best addition to any look – and it's always in style.
In this issue:
Girl of the month: the career, fashion and style of British actress Felicity Jones, a BAFTA, Golden Globe and Oscar nominee for her role in the film "THe Theory of Everything";
Most important purchases this spring: jumpers, round handbags, colorful pumps and lavender-colored wardrobe items;
Interview: Moschino creative director Jeremy Scott on fashion as a means of communication, his collaboration with Mayli Sayrus and the importance of having a sense of humor at work;
Shopping with the stars: in the new column, Elena Temnikova describes her fashion preferences;
Beauty news: the newest and best products this spring, the best cosmetics under 700 rubles and beauty salon news – all in a special collection;
Rebellious spirit: everything about the style of the '70s that is now back in fashion;
Shaping up: 20 ways to get in shape for the summer without any effort or sacrifices.
Cosmopolitan Shopping also presents readers with the opportunity to appear in the new Realgirl column, where the winner will get to model the latest looks with the help of the magazine's stylists. To participate, just send a photo and some information about yourself to shopping_readers@cosmo.ru.
Readers can also post their photos under that subject heading on Instagram with the hashtag #cosmoshopping. The cover story in May will be "Dresses in the New Look style." The magazine will feature the best photos in its pages.
The April issue of Cosmopolitan Shopping went on sale March 24.