Cosmopolitan in November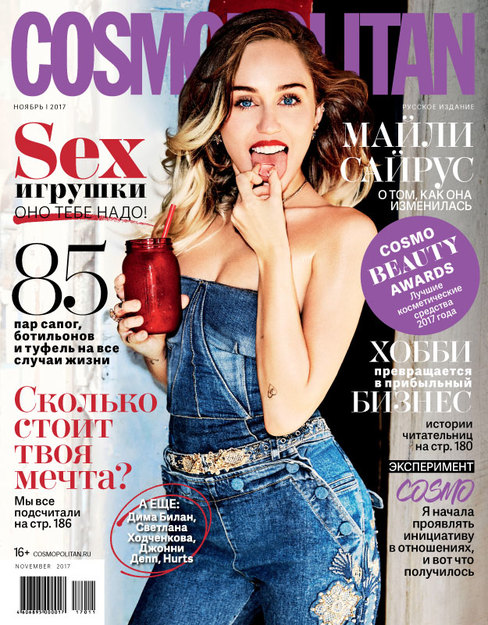 Cosmopolitan magazine's November issue is packed with loads of interesting material. Actress and singer Miley Cyrus, who appears on the cover, talks about her shortcomings, childhood, and her work on a new album.
The new issue also includes an article that helps clarify exactly how much dreams can cost: a Rolls-Royce, a yacht, and a home by the sea – things that there's no harm dreaming about. The director of Swarovski Russia shares her own success story, and the women featured in the Hobbyist section talk about how they managed to turn their pastimes into professions. Readers will also learn how to shower themselves with unconditional love and why "financial compatibility" is important.
In this issue:
The lead singer of pop group Hurts talks about happiness and love at first sight;
What happens when you take the initiative;
How a flight jacket can be an excellent alternative to the classic sheepskin coat;
Which stars earned the most this year;
Imperfect makeup – the latest fall beauty trend;
The best faux fur coats.
Also, the magazine's editors demonstrate how they conquered the Alps and tried on legendary Levi's jeans jackets, help readers choose the right skincare products, and explain how to cook the most delicious pizza – from classic pepperoni to dessert versions replete with strawberries, chocolate, and bananas.