Business Breakfast with Harvard Business Review – Russia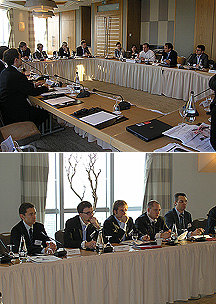 On October 15, the fifth business breakfast was held from the "Anti-Crisis Solutions and Approaches" series and organized by Harvard Business Review – Russia magazine and Accenture for top managers of various sectors of the economy.
The meeting brought together general and financial directors of the largest companies dealing in consumer goods, services and retail, including AstraZeneca, Beiersdorf, Cadbury, GE, Glance, Pepsi, Prodimex, Velcom, Renaissance Investment, Kimberly-Clark and others. Over breakfast, participants discussed the theme, "Consumer goods: sales effectiveness based on innovation."
Denis Grishen, Accenture company director for the practice of consumer goods and retail trade, gave a short talk on the dynamics of consumer demand in the current economic situation. Yan Mueller, Accenture director "strategy" director for goods and services presented a study of business cases of major companies. Guest speaker Dario Aganovich, Accenture director for "product innovation" in Scandinavian countries, also addressed the gathering. He spoke about innovative proposals aimed at consumers.
After that, a discussion began in which participants evaluated the effectiveness and relative priority of utilizing high technology for optimizing business, and shared their experiences in the area of optimizing expenditures.