Robb Report Russia in November: Special Jewelry Issue in Honor of 15th Anniversary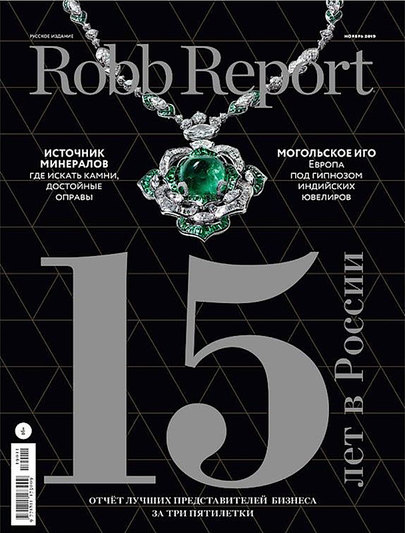 Robb Report Russia celebrates its 15th anniversary with the November issue. The quality and range of gems presented means the issue is also devoted to jewelry. Read about the ancient treasures of the Indian Maharajas with a modern twist; attend a trade show in Arizona where the world's best jewelers buy their stones; peruse the Bvlgari Cinemagia high jewelry collection; take a look back at the last 15 years of iconic collections from the Cartier, Dior and Van Cleef & Arpels jewelry houses; catch a glimpse of the Tiffany & Co. workshop; learn about the business of growing synthetic diamonds; and meet talented Russian jewelry designers who prefer to remain in the shadows.
Also in this issue:
The Transformation of Success project: interviews with Russian businesspeople Khaled Jamil, Marina Zhigaova-Ozkan, Vyacheslav Murugov, Vadim Moshkovich, and Andrei Zharkov.
The new Russian cuisine trend: Moscow's best restaurants that prepare old recipes in Russian ovens.
The revival of the iconic Bentley 4½-Litre Team Blower, hydrogen-powered aero taxis, the Triumph Rocket 3 motorcycle with the most powerful engine and other means of transportation.
The best hotels for a seasonal escape to warm shores and much more.
The anniversary issue is already on sale.