Robb Report Russia in February: Conversation is the New Luxury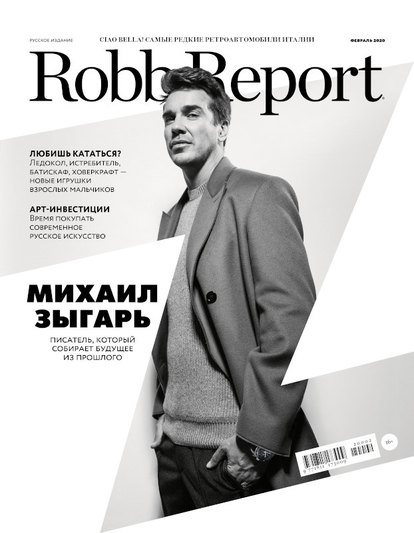 Mikhail Zygar, a writer whose multimedia projects collect the future from the past, appears on the cover of the February issue of Robb Report Russia. For the first time in 15 years, this release focuses not on mega-yachts, classic cars or tourbillions, but on the answer to the challenge of our time. In a modern world in which people are increasingly obsessed with their smartphones and fussy about their personal space, simple conversation with interesting people in a comfortable setting has become the new luxury. Therefore, in 2020 Robb Report will not only examine how the luxury segment is changing, but also peer into the faces of the people behind it.
The first issue of the year is devoted to collections and investments. The magazine offers practical tips for modern art collectors, showcases Italy's most beautiful vintage automobiles, and looks at rare varieties of tea. Readers will also learn about new forms of transportation for lovers of extreme travel. These "toys" with a motor include an icebreaker, WWII jet fighter, bathyscaphe, snowcat and hovercraft.
Also in this issue:
this season's Italian suits in a Venetian villa;
expert driving courses from premium automotive brands;
a survey of watches equipped with perpetual calendars;
the manufacturing process of one of the world's most expensive mattresses;
financial literacy for children and adults;
five hotels in the Maldives for those who are planning a wedding for 02.02 or 20.02.
The issue went on sale February 28.